24 February
2018 Mag Retelewski
Looking for an exceptional experience…

Earlier this year, I set a goal for myself to review brands and services to look for delightful experiences they could create for a customer.
This time I tried MM.LaFleur. A clothing brand which aspires to revolutionize workwear with a slightly Japanese flair. I've heard about the brand at the NRF conference in January. In this case, PR worked, at least for me.
What interested me about MM. LaFleur at first, was their purpose "When women  succeed in the workplace, the world becomes a better place". They got my attention. Their target: women who work, value their time and look for exceptional experience. The brand spoke to me again.
They promised a great experience, personalized wardrobe based on my preferences (prepared before coming to the store) and a personal stylist/assistant.
I've learned that there is a new concept store in Chicago, so I had to try it. Before I went to the store, I took the survey which included basic measurements, preferred styles and colors and what I'd be interested in buying.
When I arrived at the store, I got my lovely slippers, so I felt comfortable. The wardrobe was ready for me to try and I was offered a mimosa. I passed, since I had a meeting after, but I chose a lovely hot tea. I was the first one in the store that day (I think). Granted, I was at the store at 10:30am on Friday. When I arrived I immediately felt comfortable and welcomed. There were not many clothes and the store was well lit. So far so good.
Then I started to explore the wardrobe (around 10 different clothing options). There were 50/50 hits or misses, but I understand that a personal shopper needed to get a better feel and direction from me.
What I liked is the designs were actually quite unique, in a comfortable fabric (many machine washable which I actually find it to be helpful). I couldn't quite get the sweater or the pants I came to buy – nothing quite fitting or appealing, but I got the dresses. I have to say I love them and if there were more at a lower price points I would get more. The person helping me was available only for me and was bringing more things and removing others so that was great.
As I was trying things on however, a couple of pieces were slightly worn out (and with make up on). That was a bit of a turn off. As my expectations were high, I paid attention to all the details. At the end of the purchase experience I wasn't quite given a total price for the two dresses. I was just told that the summary will come in the email. I knew the prices of them, so I had an idea of a final price, but this was the first time in store I was not given a total and instead was asked for a credit card. Then I didn't realize I couldn't take the two dresses with me, as they had to be shipped. This was the one element I apparently missed in the presentation at the NRF that. All wardrobe pieces are to be shipped directly from NYC to my home. That said, when they arrived three days later, the box was beautifully packaged with a nice inspirational quote.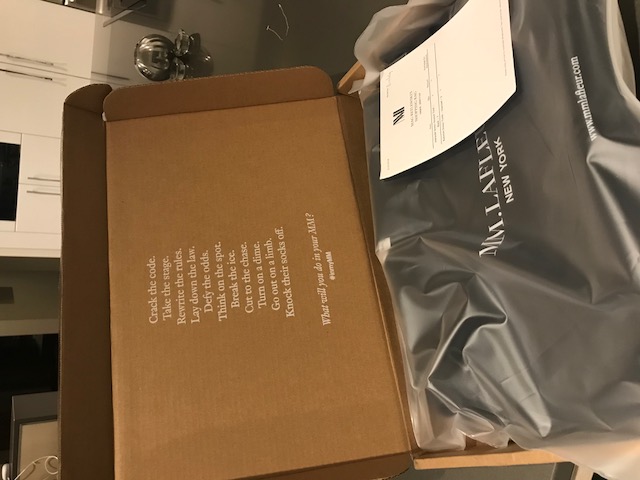 After the whole experience, if I was to judge in the "star" system I'd probably give the store and the whole experience as "4 out of 5".
There are certainly elements of the journey which could be improved, to make it even more exceptional. That said, I will likely come back as I also wanted to learn about the space and the women led events in the space.
My final score card:
What worked: Personalized shopping experience, product design, fabric choices, the store ambiance.
Opportunity area: The  need for more context about the overall process especially for a new client, a check-out experience needs more clarity, clothes should be checked more regularly to make sure they don't look worn out/dirty given, offer more pant/sweater options (the two things I came to buy and didn't get).