30 September
2013 Mag Retelewski
The Story of Clarteza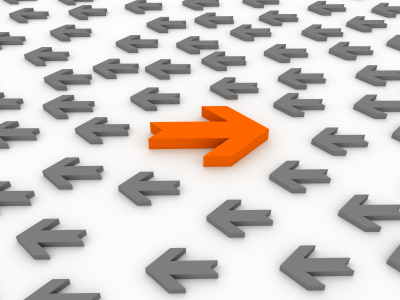 At a certain point of my life I realized that I don't fit in! I'm sure some of you have felt that way too. After working at big companies for over a decade I realized there might be something I do that's not conforming to "the rules". At big companies, I always tried to fix everything, find new solutions, create new departments, and eliminate inefficiencies (and yes this is my pet peeve!). Most importantly, I believed that some rules are meant to be broken. At heart, I was an entrepreneur, but I didn't realize it then.
I still remember, at my first job freshly out of college, the face of my VP with whom I requested a meeting 6 months into a job to discuss operating inefficiencies at his division! Well, he was kind enough to meet with me, but as you might expect nothing changed based on my recommendations. As I've moved through my career I realized there was a pattern. Maybe I was simply ready to create my own business.
For those of you who don't know me…. I was born in Poland but by now, have spent already half of my life in the US studying here, working and then having a great family. I studied business and music (violin). Yes! I was not traditional even with my studies and was a non-conformist back then ☺.
When I was growing up in Poland, the country was going through a collapse of communism and then went directly into a thrill of market economy. At the time, there were many international companies entering the freshly opened, developing market with their new products but often with irrelevant or downright (unintentionally) funny consumer messages. As a teenager I asked myself, shouldn't those companies have people telling them how they should do it? Needless to say, for the first time I learned about how marketing worked without knowing what the word "marketing" actually meant. Fast-forward to my school life, I got even more passionate about marketing and research and I always loved the international aspect of businesses. Since then, I have worked in international marketing and loved every minute of it (albeit politics, organizational inefficiencies and other ailments, I felt, some of those companies had).
I also realized that once I had a family I needed a better balance and flexibility in life. This is where I learned that effectively I had two options: work as I always have (frequently long hours and weekends!) or stop working altogether. Again, neither solution was optimal so I created my own – my new company.
The name Clarteza was derived from the word "clarté" in French, which means: clarity.  since we help our clients moving from gray to clear. Clarteza is a non-traditional company in every way shape or form. Our team has flexible work arrangements. The team is diverse in backgrounds and skills (although mostly women!). Remember "the binder of women"? We have our very impressive binder ☺.
Clarteza team is rooted in relationships of integrity, mutual respect, shared values and social responsibility. Everyone at Clarteza volunteers and makes a difference in this world! We are passionate about delivering great consulting work; pushing boundaries, always looking for new solutions that may be appropriate for our clients. (And we get to fix and create…and we have no limits!)
At Clarteza, we believe that the path to clarity is never one-dimensional and often not conventional, but it should connect to what matters. To us what matters is making connections among people, within data and often across disciplines.
How do we work with our clients? We select the right team for the right project. Since we have variety of backgrounds we match the right skill to the right project and we are not afraid of looking outside of our team if we need specific expertise to supplement our team. Because our team is cross-functional, it creates synergies through collaboration. As a result, our clients get a comprehensive point of view on issues reviewed through variety of different lenses to make sure blind spots are not missed. We always look for the right solution.
Remember my mantra "some rules are meant to be broken"? We will look for solutions that are most appropriate for our clients. We can custom develop or collaborate with clients to meet their need. However, if we get a project request that does not speak to our strengths, we will let our clients know and we are happy to recommend someone else. With our clients, we are in for the marathon, not the short sprint. And in long term relationships transparency is important.
Over the years, we have managed complex multi country international projects, helped to ideate and articulate new product ideas, worked on product tests, qualitative and quantitative research, navigated clients through the new paradigm of "consumer in the driver's seat", created cross country project guidelines and internal systems, managed shopper insights as well as taken upon the issue of "too much data" (aka big data), just to name a few.  Oh, and finally…we do it all in the right moment to meet clients' needs (even if it's outside of "regular business hours").
Ultimately, we act as a force multiplier to simply help our clients and aim to guide our clients so they can see "the forest through the trees", especially in their overloaded schedules.
If you think the term "force multiplier" sounds a bit like a military term, you are right. In fact the origin of the term is the military, per the definition below from Wikipedia.org: Force multiplication, in military usage, refers to an attribute or a combination of attributes which make a given force more effective than that same force would be without it.
But regardless of its military application, the term is directly relevant to our business. Clarteza is the force multiplier for marketers, researchers and strategists, serving as an extension of the client's team to increase its current effectiveness. Today, our clients are busier than ever, being asked to do more, with less time and less resources. The ability to "off-load" some of the responsibilities and/or time intensive projects to a high-performing, cross-functional team can make a big difference.
We believe the route to clarity lies in making meaningful connections, connections between people, disciplines and data. It is "why" we do what we do. To us, it's not just business, it's personal.
TAGS: actionable insights, big data, branding consultants, Collaboration, consulting, consulting custom solutions, force multiplier, market research, marketing research, meta analysis, overloaded schedules, shopper insights, team extension, Too much data, too much data not enough time // POSTED IN: About Us, Data management, Organizational Structure, Our Beginnings // COMMENTS: Comments Off on The Story of Clarteza